About Mehran
          
Mehran is an Iranian born Flamenco guitarist who resides in the states. His love for music started at the age 9 with the keyboards until age 14 when he started to study the guitar. Later in life he discovered Flamenco and his love affair with this music took him to Spain to study with several Maestros of Flamenco guitar. Currently he leads a band "Mehran Flamenco Quartet" with which he has been performing in the Chicago area. He has published 2 CDs that are featured on Pandora Radio.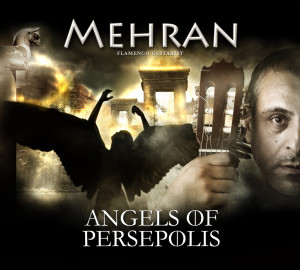 On his first CD "Angels of Persepolis"(2010) Mehran composed music with a unique sound that evoked a nostalgic blend of exotic worldliness. As he was composing this music he drew inspiration from the recent movement in Iran toward democracy and human rights. Following this release Mehran gained international attention from many music writers, music magazines and radio stations. The CD was reviewed and received high praises by likes of Barry Cleveland, editor of Guitar player magazine and so many other publications such as Vintage Guitar magazine (Jan 2011 issue), Progression Magazine, IO Pages of Holland and UK's Pipeline magazine to name a few. Mehran was featured as well in the Feb 2011 issue of Vintage guitar Magazine in a full page write up and later featured several times in the Worldview program of NPR-Wbez Radio. "Angels of Persepolis" received radio spin on many World music, college and PBS Radio stations globally.

For his latest album, "Subterranea", Mehran formed a new group and recorded with a more progressive, psychedelic and space Rock sound played on the Flamenco guitar. The lineup includes Sam Werk, recently replaced by Steven Strunka on the drums Krushanu Joseph on the bass and Carl Kennedy, recently replaced by Evan Swanson. The music is a lot more focused and the entire CD is recorded with the same 4 musicians. The sound can be described as Pink Floyd meets Flamenco.
As of a few months ago Mehran's both CDs "Angels of Persepolis" and "Subterranea" were added into Pandora Radio and are accessible on Mehran Radio. Mehran is also ranked number one instrumental group in Chicago on Reverbnation.